The Looney Tunes Show Season 1 Episode 20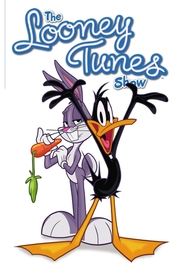 The Looney Tunes Show Season 1 Episode 20
Daffy loses his job after sleeping on the job during a bank robbery at night, so he vows to get a new job. After stalling and making excuses, Bugs kicks him out of the house. However, he decides to give Daffy another chance and signs him up as a muffin man for EnormoCorp. Daffy comes across Foghorn's meeting and makes fun of his personality. What sounds like direct insults to Foghorn actually inspires Foghorn to make Daffy his successor as CEO. However, not being the "guy next to the guy making the decisions" costs him his job and the company out of business.
NOTE: This episode takes place before the events of "The Foghorn Leghorn Story", because in that episode Carol reminds Foghorn that Daffy was the one that ruined the company.
Merrie Melodies: "Pizzarriba" by Speedy Gonzales.
CGI Wile E. Coyote and Road Runner short: "Another Bat Idea"
Episode Title: Working Duck
Air Date: 2011-11-01
Year: 2011