JoJo's Bizarre Adventure Season 4 Episode 29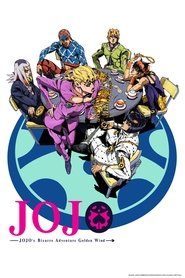 JoJo's Bizarre Adventure Season 4 Episode 29
After his death, Abbacchio was able to leave the others a copy of the boss's face and fingerprints with Moody Blues' replay. The others try to find out who the boss is with the fingerprint and suddenly get contacted by someone. The mysterious man tells them that the boss's name is Diavolo and tells them that the secret behind defeating him lies in the arrow. Bucciarati and the others head to Rome to meet him.
Views: 49
Serie: JoJo's Bizarre Adventure
Director: Yusuke Kubo
Guest Star: Asami Takano, Atsushi Miyauchi, Fuminori Komatsu, Katsuyuki Konishi, Kenn, Maria Naganawa, Nozomi Nishida, Sayaka Senbongi, Shō Okumura, Souma Saitou, Yuuya Murakami
Episode Title: Get to the Roman Colosseum!
Air Date: 2019-05-10
Year: 2019