Boruto: Naruto Next Generations Season 1 Episode 1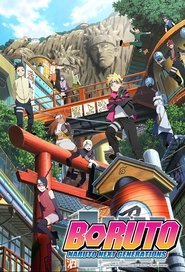 Boruto: Naruto Next Generations Season 1 Episode 1
The Hidden Leaf Village is located within the Land of Fire, one of the Five Great Shinobi Nations. Boruto Uzumaki lives here and he's the son of the village leader, Naruto Uzumaki, the Seventh Hokage. One day, Boruto saves a boy named Denki Kaminarimon, who's being picked on. Denki is physically weak, so he is unable to stand up to the bullies. On his way to the entrance ceremony at the Ninja Academy, Boruto sees Deki again. He notices that his chakra is warped and that he is acting strangely.
Views: 1445
Serie: Boruto: Naruto Next Generations
Director: Hiroyuki Yamashita, Noriyuki Abe
Guest Star: Chihiro Ikki, Hidenori Takahashi, Hirokazu Sekido, Jun Miyamoto, Junji Iki, Junko Takeuchi, Keisuke Machiya, Kensho Ono, Kokoro Kikuchi, Nana Mizuki, Natsumi Yamada, Ryoko Shiraishi, Saori Hayami, Sara Matsumoto, Shinya Hamazoe, Showtaro Morikubo, Takahashi Wataru, Yô Tokinaga, Yûko Sanpei
Episode Title: Boruto Uzumaki!
Air Date: 2017-04-05
Year: 2017